The Path of Poljane Treats
We live in a time when we increasingly appreciate homemade and naturally grown food, so we invite you to visit the providers in the Poljane Valley, who grow and prepare their crops and products with a heart and the genuine Poljane benevolence. 
The Path of Poljane Treats will take you through the idyllic corners of the Poljane Valley all the way to the hospitable farmsteads, where you will be received by friendly people, and you will return home with a basket full of delicious treats.
On the Path of Poljane Treats, you choose the direction of your path yourself. You can become interested for an individual provider with the help of the leaflet the Path of Poljane Treats, which you can get at the Škofja Loka Tourism, in the Šubic House in Poljane or at the Poljane Valley Institute. It is advisable to make an appointment in advance at the farm you want to visit – this way, you will definitely leave it with a basket full of delicacies. 
More about the content can be found at the link.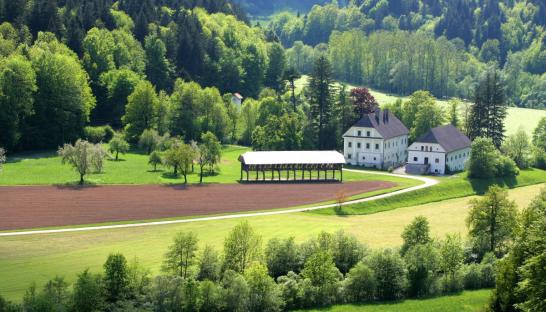 Promise your loyalty to each other in the ambience of the Visoko Manor
The Visoko Manor is a mighty country building with several attached buildings in Visoko pri Poljanah in the Poljanska Valley. It is one of the most important architectural monuments in our country, as it represents the building of the richest members of the peasant class in the second half of the 18th century. It has been declared a cultural monument of national importance, with the aim of preserving the originally designed space as a cultural value.