DECLARATION ON THE PROTECTION OF PERSONAL DATA
DECLARATION ON THE PROTECTION OF PERSONAL DATA
The Declaration on the Protection of Personal Data in the company Zavod za turizem in kulturo Poljanska dolina with its address in Zavod Poljanska dolina, Poljanska cesta 87, 4224 Gorenja vas (hereinafter: the company) applies to personal data processing and includes data on customers and other individuals, who have expressed a desire to cooperate (hereinafter: the customer). The company is the controller of the processing of customers' personal data. In the following sections, we will inform you what purposes we process your personal data for and provide other information that might be of interest to you. For all additional questions, we are available via contact information. This Declaration on Personal Data Protection is valid from 23 May 2018. This statement's content can be changed at any time, so its latest version is always available on our website www.starivrh.si. We will notify you immediately if there are any changes in the statement that would significantly affect your personal data processing.
FOR WHAT PURPOSES DO WE PROCESS YOUR PERSONAL DATA?
The company processes your personal data for:
Implementation of contractual relations, which includes the management and implementation of the order and contractual activities.
Marketing activities, which include personal databases and sending offers via direct e-mail, phone or in person.
Marketing activities, which includes advertising through various communication channels, such as direct mail, e-mail, phone calls, website, social networks etc.,
Sending periodical news via e-mail.
Conducting customer satisfaction surveys and other marketing surveys to continuously improve internal procedures and supply.
Conducting prize games, which include drawing and publishing data about winners.
Collection and processing of personal data obtained at professional conferences and promotional events organized by us or others.       
HOW LONG DO WE KEEP YOUR PERSONAL INFORMATION?
The company keeps customer data for the period necessary to achieve a particular business purpose and the extent necessary to ensure compliance with applicable law. After the expiration of the valid data storage period, the data is securely deleted or destroyed.
WHO HAS ACCESS TO YOUR PERSONAL INFORMATION?
The company does not forward customer personal data to third parties, except:
To external contractors, who process data exclusively on behalf of, for an account, according to instructions under the supervision of our company (e.g., maintenance of IT systems, website administration, implementation of electronic messaging, etc.) and
If necessary, to state authorities, based on their substantiated written request to conduct a specific procedure.
HOW IS YOUR PERSONAL DATA PROTECTED?
We have taken appropriate data protection measures to ensure the confidentiality and security of your personal data. This means that we take organizational, physical and technical measures to protect personal data against accidental or unlawful destruction, loss, alteration, unauthorized disclosure or access to personal data.
HOW DO YOU EXERCISE YOUR PERSONAL DATA PROTECTION RIGHTS?
As an individual, you have the right to request an overview of your personal data and, under certain conditions, to have it corrected and/or deleted. Besides, you can exercise the right to restrict the processing of your personal data, the right to object to the processing and the right to data transfer.
If you wish to exercise your rights regarding personal data protection, please contact us via contact details.
CAN YOU WITHDRAW YOUR CONSENT?
Once you have given your consent, you can withdraw it at any time. If you wish to withdraw your consent, please contact us via the contact details.
HOW TO FILE A COMPLAINT?
If you wish to complain about our company's handling of your personal data, you can file a complaint via the contact details.
HOW CAN YOU GET IN TOUCH WITH US?
If you are interested in how we process your personal information, please read this statement first. For any additional questions, comments, compliments or complaints, please contact:
Zavod Poljanska dolina, Poljanska cesta 87, 4224 Gorenja vas or write to zavod@poljanskadolina.com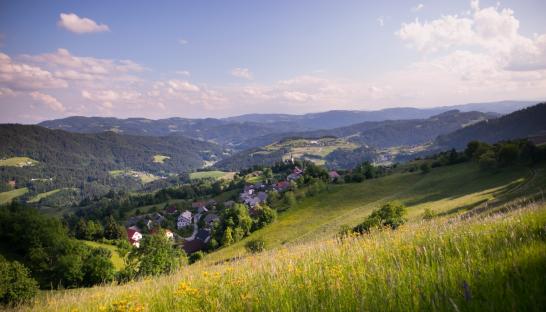 Why is Stari vrh so appealing in all seasons?
Stari vrh is a popular destination in all seasons. In the winter, you can test your skills on the white slopes, while the rest of the year you can walk along the hiking trails, visit the Stari vrh Family-Adventure Park, or simply refresh yourself in the hut just below the peak. If you plan on staying in Stari vrh for several days, there are numerous friendly providers in the surrounding area.