Hiking Trails
For just about everyone, even for the most demanding hikers, there will be a suitable and well-kept hiking trail, offering a variety of sports pleasures. From the Poljane Valley, numerous trails lead to various peaks, which offer an unforgettable view of the surroundings, and the mountain huts invite you with their appetising culinary delicacies. 
Experience the contact with nature on the picturesque hiking trails of the Poljane Valley. 
However, those who prefer somewhat longer walks in nature will also not be disappointed, as there are plenty of possibilities for that. Even if you are going on a hike for the first time, there is absolutely no fear of getting lost, as the hiking trails are well marked with signposts. 
Enjoy hiking experiences in the Škofja Loka Hills!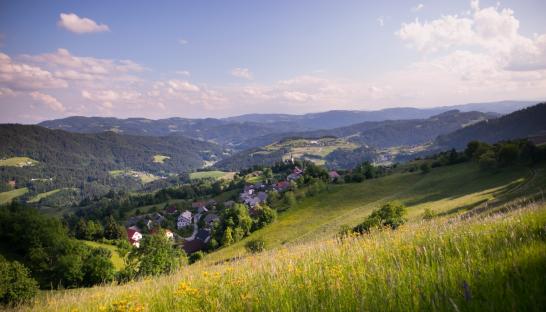 Why is Stari vrh so appealing in all seasons?
Stari vrh is a popular destination in all seasons. In the winter, you can test your skills on the white slopes, while the rest of the year you can walk along the hiking trails, visit the Stari vrh Family-Adventure Park, or simply refresh yourself in the hut just below the peak. If you plan on staying in Stari vrh for several days, there are numerous friendly providers in the surrounding area.