Wedding in Visoko
A wedding in Visoko is performed according to a special wedding protocol, led by the Lord of Visoko, Dr. Ivan Tavčar. It can take place in a beautiful wedding hall with rich ceiling and wall paintings or outdoors, in the embrace of the surrounding hills and forests overlooking the early Baroque Church of St. Volbenk.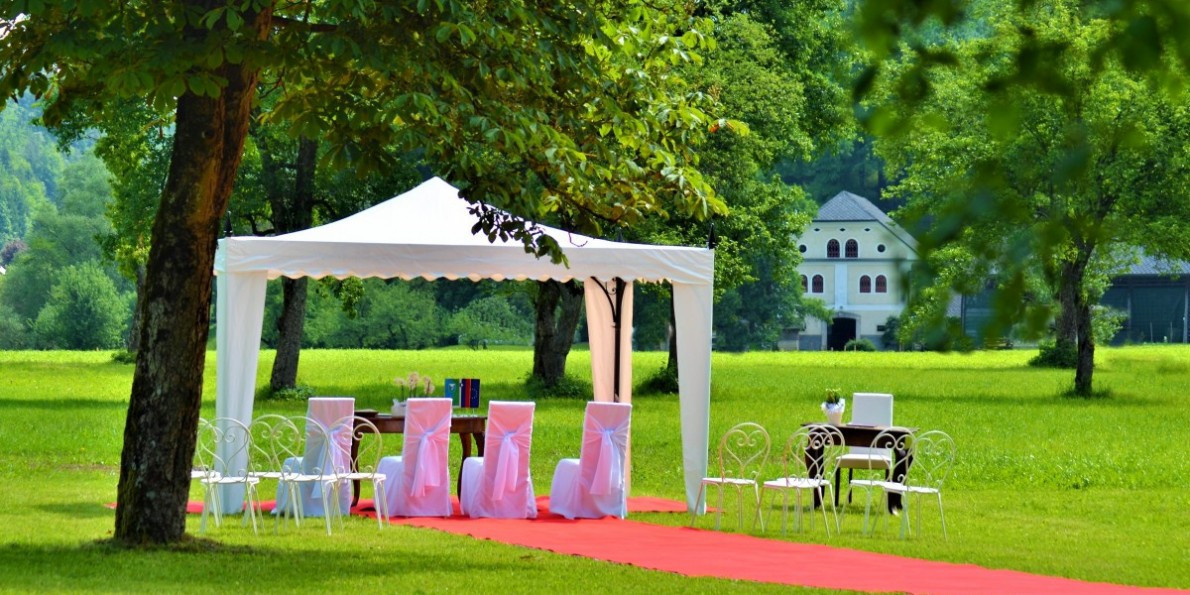 Crown your most beautiful day with the magic of the Tavčar Manor in Visoko in the embrace of the unspoiled nature of the Poljane Valley!
The bride and groom are brought in front of the Visoko Manor by a beautifully decorated carriage with a coachman, where they are received and addressed by the Lord of the estate, Dr. Ivan Tavčar. The Lord of Visoko accompanies them to a beautiful wedding room, where the registrars perform a civil ceremony accompanied by a unique music. After the civil ceremony, the newlyweds walk through the double line of wedding guests to the green carpet and the space prepared for them under a young chestnut tree. 
Long live the bride and groom! 
Between Tavčar's tulip tree on one side and a beautiful view of the Church of St. Volbenk on the other, the newlyweds toast with mead from under Blegoš, and the Lord of Visoko gives them some instructions for a happy life and gives them a gift of love – an oleander flower made of lace. After the wedding ceremony, the newlyweds and the guests can stay in the idyllic and natural environment of the Tavčar Manor and continue the wedding celebration. 
You are also invited to watch the wedding on video. 
Information
Tourist Board Škofja Loka
Kidričeva 1a, 4220 Škofja Loka
Tel.: +386 4 517 06 00
e-pošta: info@visitskofjaloka.si
More about wedding in Viosko you can read HERE.


Poroka na Visokem pri Poljanah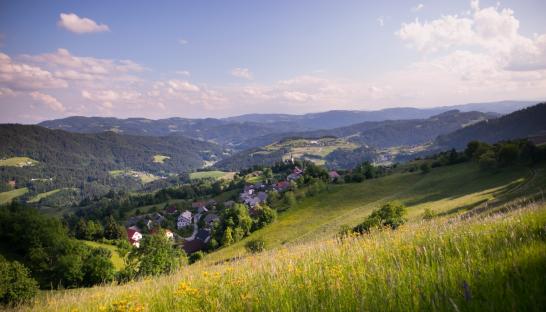 Why is Stari vrh so appealing in all seasons?
Stari vrh is a popular destination in all seasons. In the winter, you can test your skills on the white slopes, while the rest of the year you can walk along the hiking trails, visit the Stari vrh Family-Adventure Park, or simply refresh yourself in the hut just below the peak. If you plan on staying in Stari vrh for several days, there are numerous friendly providers in the surrounding area.